In August 2015, 21 Americans youth between the ages of 8 and 19 brought a landmark case against their own government. The charge? By contributing to and exacerbating climate change, the US government has violated American citizens' constitutional rights to life, liberty and property.
Now, over a year later, and in a spark of hope which flickers bright in the aftermath of the US elections, Judge Ann Aiken of the federal court in Eugene, Oregon, has rejected the US government's, numerous federal agencies' and fossilfuel industries' motion to dismiss the case. This means that the youth plaintiffs, with the support of Our Children's Trust, a non-profit which works to raise young voices on climate change, will take these defendants to court in a case promising to be both symbolic and hugely influential.
"This decision is one of the most significant in our nation's history," – Julia Olson, executive director of Our Children's Trust.
The youth plaintiffs, a diverse group from across the States, claimed that despite having decades-long knowledge of the dangers caused by human-induced climate change, leaders have locked the country into a system bound to fossil fuels. The continued financing of industries contributing to carbon dioxide emissions is an assault on the wellbeing of present and future generations, a case serious enough to be taken to court.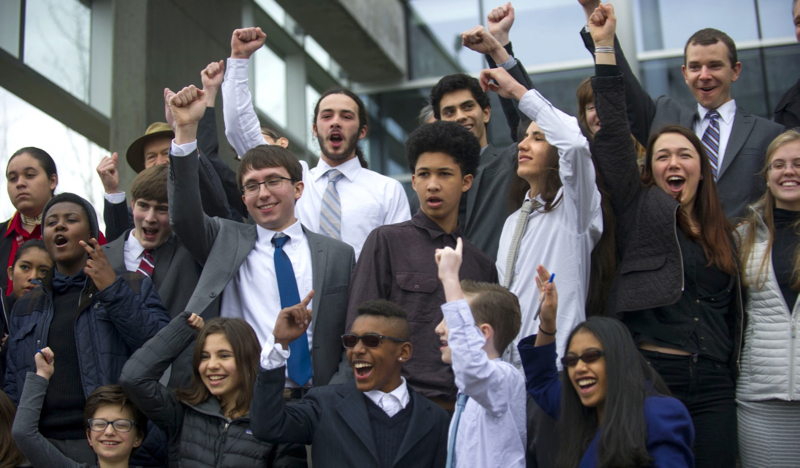 Judge Aiken's ruling states that "this action is of a different order than the typical environmental case." The complaint alleges that the defendants' actions and inactions – whether or not they violate any specific statutory duty – "have so profoundly damaged our home planet that they threaten plaintiffs' fundamental constitutional rights…" Aiken notes, "Federal courts too often have been cautious and overly deferential in the arena of environmental law, and the world has suffered for it."
This knowledge is nothing new to climate activists, scientists, and those affected by the injustices of climate change. The complaint delves in detail into the effects which the burning and financial subsidisation of fossil fuels has already had on lives, from asthma and cancer to displacement by flooding.
Our Children's Trust attorney Elizabeth Brown said that "the US has knowingly put their generation in grave danger." As laid out in the official complaint, "the executive branch has known that 'pollutants have altered on a global scale the CO2 content of the air' through 'the burning of coal, oil and natural gas.''' Brown believes that this case will push the defendants to fully acknowledge and act upon the facts which have shown carbon reduction as the only safe way forward.
Nor is this the belief of a minority. "There is overwhelming consensus amongst American people that this issue needs to be tackled," said Jeffrey Sachs, economist and expert on environmental justice and poverty. Sachs urges us never to lose sight of the big picture: "20 governments are responsible for 75 to 80 per cent of world emissions, and 90 companies account for two thirds of all emissions".
This ongoing case has implications for wider discussions around environmental justice. Alyssa Johl, an international lawyer and human rights activist, sees this decision as "a clear answer" to take forward in our communities and on an international scale:
"We must reflect on what has happened in the U.S. and we must build in our communities, and we must rise up." – Alyssa Johl
Sachs added that if the US were to continue to oppose the allegations "it would be a country completely standing on its own." He pointed out that it would not be the first time the US has turned its back on environmental responsibility. When the country walked away from the Kyoto Protocol in 2001, other states were able to pull their weight to make up for its lack of cooperation. However, it is hoped that this case, which Sachs calls "a remarkably brave and creative lawsuit" will be seen as "a last opportunity for the Obama administration to get it right."
Daniel Jubelirer of Earth Guardians believes that "we are now calling on Obama to switch sides and not to stand with the fossil fuel industry… The case going to trial proves that this matters." An incoming Trump presidency threatens to put the brakes on climate progress. The next few months are a window in which President Obama must stand with those who are fighting for climate justice before American politics renders this even more difficult.
This is a fight for the power of youth voices, for transparency and equity, and for a clean and livable future. As Joni Pegram, senior policy and advocacy advisor on climate change for UNICEF UK reminds us, children are still only mentioned once in the Paris Agreement. Climate action must be informed by the rights of all, including those of young people.
When it comes to court next year, the case will name Donald Trump, his government, and the fossil fuel industry as defendants in what Jubelirer describes as "the trial of our generation's lifetime."