Wet weather kicked off the first day of COP22, the UN climate change negotiations. The only-partially-constructed venue was not enough to dampen the enthusiasm of negotiators as they trickled through though. Given the unprecedented early entry into force of the Paris Agreement, a mere three days prior (on 4 November), a celebratory mood was not unexpected. Add on the recent successes of the Kigali Agreement in limiting HFCs, how could there now be an air of ambition and excitement as the delegates took their seats?
The opening plenary began with a changing of the guard from COP21 president Ségolène Royal of France to the now COP22 president Salaheddine Mezouar of Morocco. Before the negotiations themselves got underway, Royal gifted Mezouar a giant globe embellished with a smiling face.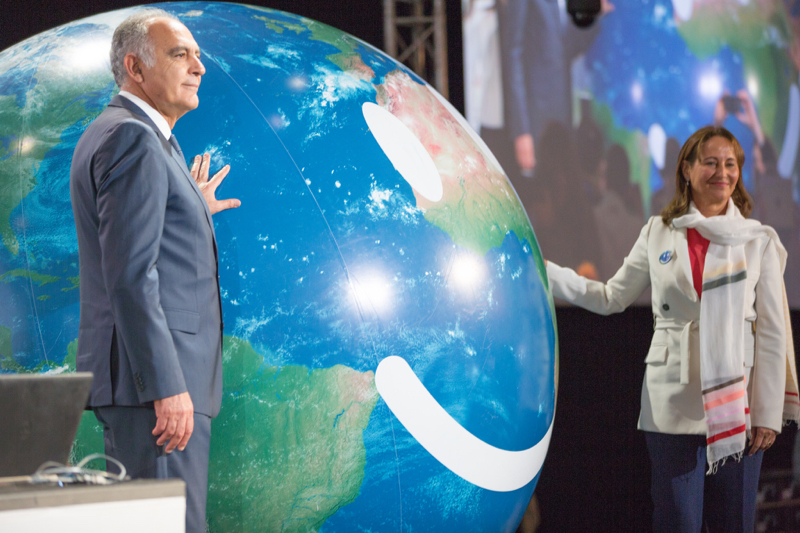 It came alongside her ask of delegates to begin financing projects to provide energy for the millions of African citizens still living without access to energy. "The sun does not ignore a ledge because it is small," Mezouar shared.
Former COP16 president and current UNFCCC executive secretary Patricia Espinosa laid out the agenda and goals for this Moroccan meeting. Key topics include finance, adaptation and the scaling up of ambition for national action.
Stock standard formalities aside, the adoption of the agenda was delayed when Turkey unsuccessfully requested an agenda item to allow them access to climate finance and technology. This nonsensical move, given their status as an Annex I country yet to ratify the Paris Agreement, which over a hundred countries have now done, was awarded the Fossil of the Day award given to the country who has done the least to contribute to the progress of the negotiations.
Notably missing from the conference was Panafrican parliament vice-presidentSuelma Beirouk. Hailing from Western Sahara, an occupied region of Morocco, Beirouk was detained by police on the evening of 6 November at the Marrakech airport. At this time, the reason of her confinement has not been released. We do know her intention was to attend COP22, and she had all of the necessary paperwork. Activists have taken to Twitter to demand a response from the Moroccan government, to no response.
Another mystery was the silent disappearance of a ministerial meeting on finance, specifically surrounding adaptation financing for developing countries. Civil society are unlikely to let that drop though according to Harjeet Singh, climate advisor at ActionAid: "we are expecting some good fights on that".
Coming out of day one, it is clear that the focus will centre around transparency, urgency and action even if it's unclear what the trajectory of COP22 will be.