Elizabeth May has been a topic of hot debate in the lead up to the Canadian general election this October with her potential inclusion in the leaders debate.
There's no forgetting Canada's unfortunate climate reputation: as a country consistently ranked in the bottom five in the Climate Change Performance Index (CCPI). Produced by Germanwatch, the CCPI evaluates the climate policies of the 58 countries responsible for over 90 per cent of global energy-related carbon emissions. Then there's the Stephen Harper government's never-ending support of the oil and tar sands industry. And we've all watched on as Harper continues to support the construction of the Keystone pipeline, which Obama has vetoed. The list of disastrous environmental policies goes on, which begs the question: is this election an opportunity for Canada to change it's environmental trajectory?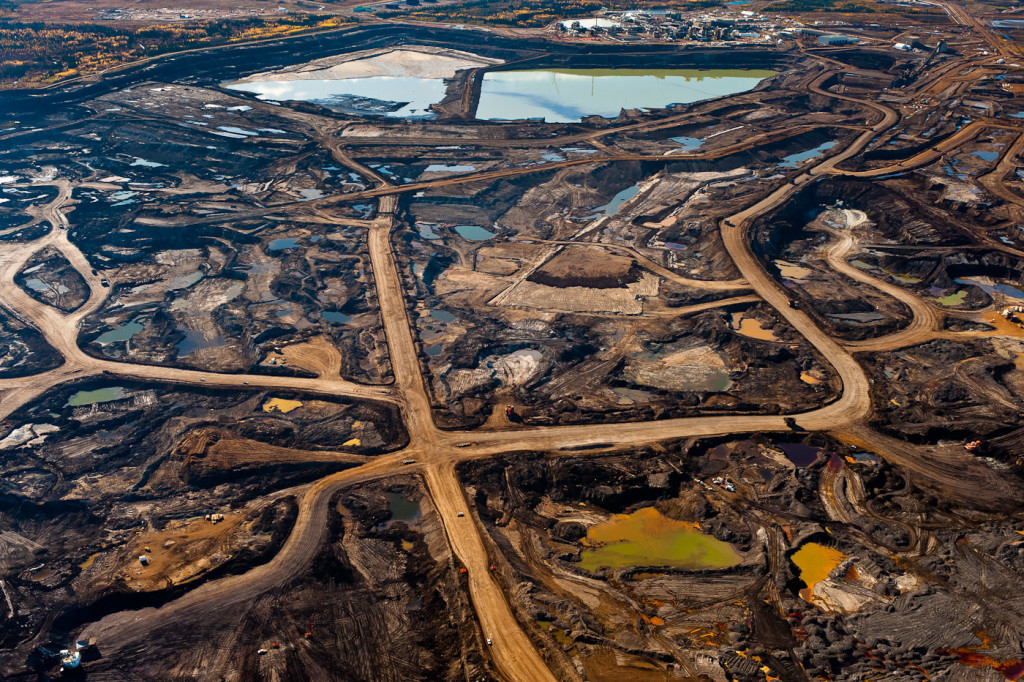 Photo: Oil Change International.
At the most recent UN climate talks, May was the only leader of a Canadian political party to actually attend. In the lead up to the Paris negotiations, she is focused on changing Canada's current environmental policy, which has severely deteriorated under the Harper government. May say down with The Verb last December to discuss her hopes in 2015, and the role of the Canadian Green Party in the lead up to the election and negotiations in Paris.
The recent release of a federal budget that manages to avoid any mention of climate change has only increased speculation around May's hopeful participation in the leaders debate. May's political career has been nothing short of a struggle, and it's time that a voice representing environmental issues is heard and present.
---
Andrew Johnson: I lived in Australia during 2013, and it seems as if the Greens [there] are more prominent than in Canada.
Elizabeth May: The Greens in Australia have the balance of power [in their upper house], and as soon as we have a balance of power and are being elected it will be the same for the Green Party in Canada. Being elected in a first-past-the-post system is hard. The Green Party of Canada and the Greens Party of Australia have really claimed that environment space.
Do you work closely with Australian Greens leader Christine Milne through the Global Greens?
The global movement is called Global Greens. I actually worked very closely with Christine's predecessor, Bob Brown. The Greens in Australia have the balance of the power in the senate. And they have proportionate representation [there].
How do your positions, and Canada's, align with the Global Greens?
We are very involved with the Global Greens and the Green Parliamentarians of the World. I work closely with these groups on climate policy and 2020 action. Working closely with New Zealand, Australia, Germany and the EU in general.
The Swedish Greens just had a major setback because the far-right-wing government just brought down a coalition government in which the Greens were actually deputy prime minister. Around the world, we all work together, but our focus is on domestic action.
If people knew that Canada had one of the hardest electoral systems, they would understand.
Have you not been very successful within the Canadian electoral system though?
We made a breakthrough! Carolyn Lucas is the only Green Party member of parliament in the UK, of course the UK Parliament is some 600 members of parliament. At first I was the only Green MP amongst 308, but now there are two of us! Two Green MPs and we're going to elect far more in the next federal election.
The New Brunswick Green Party leader is now the third party in their legislator [system] because no New Democratic Party members were elected. David Coon defeated a sitting conservative energy minister who was pro-fracking in New Brunswick. Andrew Weaver was the first elected Green in the British Columbia legislator, defeating a sitting conservative cabinet minister. And of course when I was elected I defeated a conservative cabinet minister.
What do you contribute to the success in defeating sitting cabinet ministers in predominantly conservative ridings?
What is was, and what it still will be, is that when voters realise they actually can elect and have a Green Party representative in a provincial or federal legislator in Canada. It increases voter turn out substantially. I had almost the highest voter turn out in Canada in 2011. Saanich Island had just under a 75 per cent voter turn out which is quite astonishing. Weaver's riding had the highest voter turn out in British Columbia, and David Coon's voter turn out in Fredericton South was more than 70 per cent.
You begin to realise that the panic among 'so called progressives' in Canada that somehow the Greens are going to deprive liberals or NDPers of a chance to hold a seat, well, the reality is the opposite. We are much more likely to be able to defeat a conservative because we create a momentum that brings new, and more, people to the polls.
You mentioned that in the next election there would be more Greens elected, is this because people will be more aware?
Well in 2011, the national media did everything possible to tell voters that the Green Party wasn't running. They didn't cover anything and kept us out of the leaders debate.
Why do you think that is?
Because the other leaders asked them too. Literally. They tried to keep us out of the debates. The other party leaders decided that they didn't want me in the debate, and the media said okay if you don't want her in we will keep her out. And it's not me of course, it's the Greens as a party.
In the next election they can't do that. We've gotten elected; they've always said that the test was you had to have an elected MP. It will make a big difference.
I was in the leaders debate in 2008 and we got almost a million votes. They kept me out in 2011 and our vote dropped by half because people didn't even know we were running.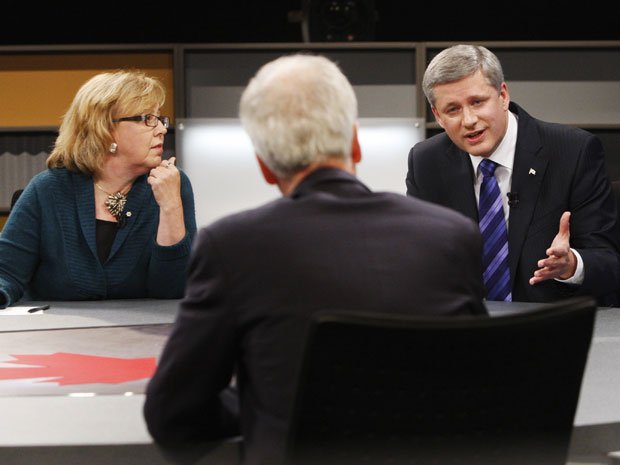 Photo: Reuters/Chris Wattie.
How many seats are you projecting to win?
We're hoping to elect enough Greens, so that in a minority parliament we can be the balance of power which will let us drive the agenda for Paris.
Thinking ahead to COP21 in Paris, the Harper government has disregarded you, and only sends official delegations consisting of conservatives.
That's right, and the other opposition parties unfortunately taking their cue from Harper have stopped sending MPs to COP. The other parties should be sending people to stay on top of it. I think either Justin Trudeau or Thomas Mulcair will be the next prime minister and I want to work with them.
I'm here so that when the elections are over and they're looking around and wondering what to do in Paris, somebody on the newly elected parliament knows. This is how we'll be able to contribute to a legally binding global treaty.
Do they seem to have more sense when it comes to climate change?
Well, it would seem that way, but there's no evidence of it. Justin Trudeau is very much in favour of the Keystone pipeline. Tom Mulcair is in favour of Energy East, and they're both against Enbridge. But, they both seem to be in favour of Kinder Morgan.
I definitely think that either one of them is going to be far more open to a climate agenda than Harper, who is actually opposed to reducing greenhouse gases. The reality is that Harper has succeeded by muzzling scientists, taking climate change off the agenda and removing it from national media coverage.
I never imagined Harper would be so successful in getting climate change off the radar.
Compared to [Australian Prime Minister] Tony Abbott, has Harper done less for the climate?
Abbot has only been in [office for] a little bit. Harper has been demolishing climate policy, he has done serious damage to the global negotiation process. It was Harper who created the notion that the base year [for calculating carbon emissions reductions] was not 1990, but whenever you said it was. In 2006, within weeks of gaining a minority [government] and becoming Prime Minister, Harper changed our target in Kyoto, which was then legally binding and made up a new target tagged to 2006, and in Copenhagen tagged to 2005.
Canada's behaviour opens up space for other countries to do less than they should have, and by comparison with Canada, they will always look better.
People still have a high regard for Canadians as keepers of the climate. Is this because of the lack of media coverage?
There's a lack of media coverage and they're complicit with allowing Harper to create the myth that Canada is [still] environmentally focused. He never ran a campaign that said: "vote conservative and we will cancel all the climate plans that were left by the liberals". He is clever, so he says things like: "we want to act on climate, but we don't want to hurt our economy". And that's the kind of statement Canadians will agree with.
Any kind of decent national media news outlet would have exposed his destructive actions towards global climate progress long ago. We have to hope that in the next leaders debate, since I will be in it, it will change. And it will be clearer to Canadians that Harper has been the cause of destructive polices on climate.
Harper stood up in parliament and said it would be crazy to deliver on the promise that he made in 2007 to reduce greenhouse gas emissions in the oil and gas sector through regulation. Not what we would have preferred that. We think it would make more sense to put in place a carbon tax, to have clear pricing to remove subsidies, to have an aggressive plan for energy efficiency.
Canadian media has fewer resources due to cut backs and its easier to go along with the climate narrative that Harper has set up, that somehow his actions are acceptable.
What about the work that sub-nationals are doing?
Municipalities are actually doing the most [on climate change]. Cities across Canada are doing more, and then provinces are. The provincial picture isn't perfect and I don't agree with a lot of what Christy Clark's government is doing, but British Columbia can have a carbon tax that hasn't hurt our economy, and has worked.
They seem to be doing a lot in Ontario too.
Well, Glenn Murray has only been environment minister for less than five months. But the trajectory was set by Dalton McGuinty to close coal-fired power plants; Kathleen Wynne has delivered on that promise and that is a significant [emissions] reduction.

It was great to speak to you Elizabeth, thank you for taking the time to sit down with us.
It was lovely to see you again Andrew.
Photo: The Canadian Press: Sean Kilpatrick.