While negotiators work hard to deliver a binding climate agreement in Paris this week, there is another group of actors working just as hard to make sure fossil fuels stay on the energy menu.
With big money behind them and private profits at stake, lobbyists connected to the fossil fuel industry are pushing for solutions to climate change that keep the industry's hand in the game, such as natural gas, carbon pricing and carbon capture and storage (CSS).
An exposé by Avaaz emerged last week, targeting specific and notorious lobbyists, with activists posting more than 1000 "WANTED" signs around the streets of Paris.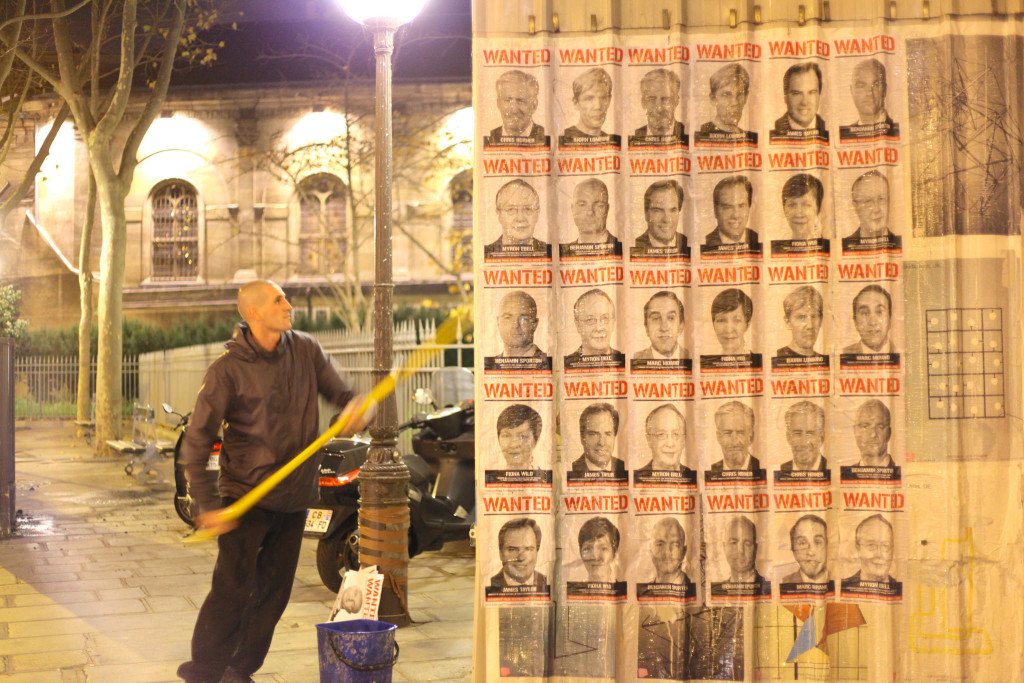 In the days that followed, Greenpeace's Energydesk publicly outed scientists who were willing to take undisclosed donations from fossil fuel companies in return for peddling spurious doubts about climate science and energy solutions.
In the wake of the Exxon scandal, a study showed the US Bureau of Ocean Energy Management, the regulatory body in charge of managing part of the Arctic ocean, was pushed to extreme lengths to get Shell's permits approved in time before the company's drilling window closed, which prompted several scientists to resign to protect their scientific integrity, in what was seen by some staff as a rush for the Arctic's fossil fuel resources.
The scene has shifted slightly in past years, with companies BP and Shell both acknowledging the threat of climate change and their responsibilities as fossil fuel producers. Just this year both companies distanced themselves from conservative advocacy group and notorious anti-climate body ALEC. More energy companies are now following suit.
Companies are scrambling to redefine and reposition themselves in the public eye. A letter sent in June by six of the largest European oil and gas firms to the United Nations and its member governments argued they "would like to be part of the climate change solution, not part of the problem."
At Paris, these companies are fighting to stay in the ring, with lobbyists from big oil giants present, alongside members of coal and gas industries. Groups such as the Corporate Europe Observatory has been tracking their movements around the city and at the negotiations.
Building a narrative that oil and gas must provide the bridge to a clean energy future, the industry sees itself as a transition, and is putting forward "solutions" to COP negotiators.
Here are the top three:

1. Carbon Pricing
Companies including Shell and BP wrote to the UN earlier in the year and called for "widespread and effective pricing of carbon emissions."
Industry analyst and senior programme adviser at Greenpeace UK, Charlie Kronick, says carbon pricing is the most dangerous idea in the fossil fuel toolkit because it is something that has already been used in places like Europe, and seems ostensibly plausible.
While the idea of placing a price on carbon is a good one, the industry is vying for a global standardisation process that Kronick believes would be "impossible" to get and essentially gives leaders in the oil and gas industry a chance to promote a climate solutions narrative, whilst knowing full well that this would never actually occur.
"The idea of a 180 countries identifying a uniform system of carbon pricing [is] not just a fantasy, [it's] never going to happen. And if that's the condition the industry puts on adopting a solution to climate change, what they're giving themselves is a get out of jail free card," Kronick told The Verb.
German chancellor Angela Merkel, however, can see the benefits: "Carbon pricing makes investments in low-carbon or carbon-free technologies attractive and ensures that fossil fuels are used efficiently."
In October 2015 the World Bank Group and the International Monetary Fund launched 'The Carbon Pricing Panel' with heads of government, supported by private sector leaders.
Private investor and AP4 CEO Mats Andersson says carbon pricing is unavoidable: "If you want to be serious about fighting climate change, there is no way you can do this without putting a price on carbon."
"Our mission would be to push companies," said Andersson. "If we are long term investors we need to fund companies that put sustainability high on the agenda."
2. Carbon Capture and Storage (CCS)
This method of capturing emissions and storing them is hailed by industry as an innovative technological fix. A technology that can capture up to 90 per cent of the carbon dioxide emissions produced from the use of fossil fuels in electricity generation and industrial processes, preventing the carbon dioxide from entering the atmosphere. The problem? Nobody can get it to work.
We already have the solutions in place now, says Kronick. "It's energy efficiency, it's the incredibly rapid growth of renewables… If we wait around [for the oil industry] to deliver what it claims it will deliver, we will be waiting a very very long time."
3. Natural gas
Oil companies back a bigger role for natural gas, the burning of which releases around half the carbon emissions of coal per unit of energy produced.
At a World Gas Conference, earlier this year, Shell CEO Ben Van Beurden championed the benefits of natural gas, working alongside solar and and wind, to transition to a clean energy future.
"The benefits of natural gas are well documented," argued Van Beurden, "and gas-fired power becomes even more attractive when you take the costs of tackling climate change and air pollution into account. The quicker the world turns from coal to gas and renewables, the lower these costs will be."
Twenty years ago, an argument could have been made to use gas as a pathway to a zero carbon energy system, Kronick says, but not anymore.
"The reality now is that investment in gas isn't just a waste of money – it locks us into a carbon energy system for decades to come at a time when we should be rapidly moving away from fossil fuels altogether."
The oil industry has a huge advantage wherever it tries to lobby because it is financially still so important in many of the world's developed economies, according to Kronick.
"In developing with emerging economies countries such as Venezuela and Mexico, their entire economies are dependent on oil …making this industry so important, even in places where they are doing a lot of damage."
Talking in Paris last week, former US Vice President Al Gore hoped it was "game over" for the fossil fuel industry but admitted there was still a way to go.
Gore said those investing in this industry needed to assess the real risk; "It's a new world and they need to change very quickly."