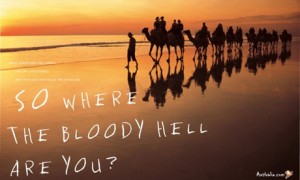 Australian Environment Minister Greg Hunt announced that the government would be launching a brand new ad campaign to help improve the global perception of Australia's climate policy.
The new ad, viewable here, which can be found below, has been described by some commentators as being in poor taste. Commentators have been especially critical of the subtle reference to Australia's ranking as the world's worst emitter per capita, pointing out that "Australia has left the light on for you".
A defiant Hunt explained the decision, stating that "it's been seven years in the making, but now people can finally understand where we stand as a nation".
Australia certainly is letting the world know where it stands on climate change, with its non-ministerial-attendance at the current United Nations climate change negotiations. It is also seeking to become the first country in the world to repeal an established carbon price, which is sure to be a tourism highlight.
Demonstrating a sense of irony often absent in politicians, Hunt said that "whilst I am interested in increasing the size of my Wikipedia bio, I am looking to keep a low profile over the next couple of weeks."
The climate minister closed the press release with, "I'm named Hunt for a reason. People are going to have to be looking very hard to see me do anything on climate change. Hunting you might even say."
By Jeremiah Brown, top photo by Reinis Traidas, inset photo via Tourism Australia. This piece is obviously satirical and intended to make you laugh and realise that the situation is actually that dire.