At COP22, Morocco's civil movements take to the streets to voice concerns and make their demands. Taking advantage of international media attention and the temporarily loosened of the Moroccan authorities, groups used mobilisations around the climate conference to turn the lens of the camera to their own struggles.
"We protest because that is the price of conscience."
As the COP22 march wound its way past the El-Kharti stadium, a group of uniformed teachers stood by the road, their placards held aloft. "I am a teacher, not a commodity," read one of the signs. Two teachers held up a mosaic of graphic images, depicting injuries suffered by teachers at the hands of police authorities.
The protestors are a part of a national movement of teachers demanding an end to the instability that surrounds their profession and a reversal of government educational reforms.
Earlier in the year, the government issued decrees which halved teacher training funding and separated teaching training from teacher recruitment. Trained teachers will now have to sit for further tests to determine whether they will be recruited into the educational sector.
According to Warda Zaoui, a teacher protesting at the march, "the training of teachers is being divided from recruitment, and that is worrying, because many trained teachers are left in a situation of chronic unemployment. We refuse to accept such conditions."
Cuts to government recruitment have meant that thousands of trainee teachers will face unemployment, or will have to enter the private educational sector, where decent wages, contract conditions and benefits are scarce.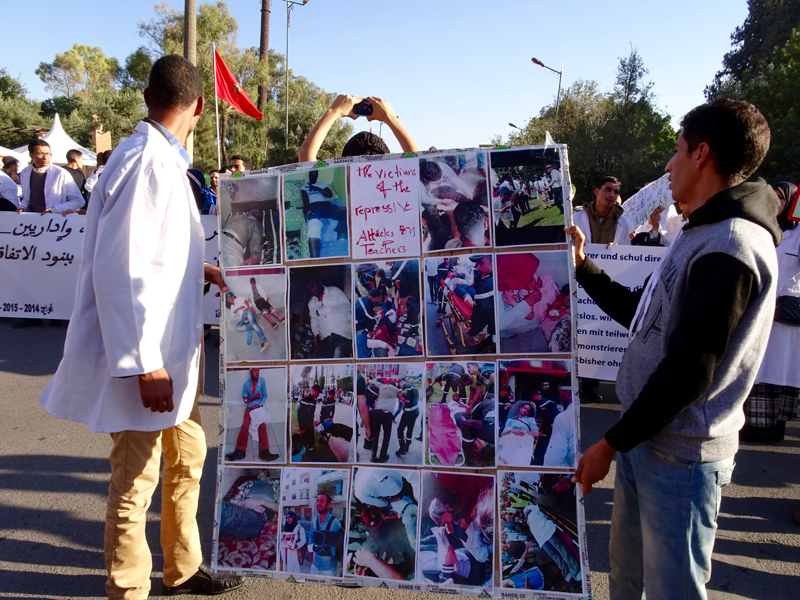 The protests occur in a wider context of educational privatisation and a reduction in public sector hiring in Morocco. In 2014, the United Nations Committee on the Rights of the Child expressed concern over Morocco's educational privatisation plans, which could widen inequality in a country where one third of the population is illiterate.
"Improving education is deeply necessary for Moroccan society," affirms Zaoui, "but we are now seeing a situation of privatisation in the educational sector and increased precarity in our work as teachers."
Teachers have mobilised over the last seven months across the country, boycotting lectures and staging protests despite a crackdown from authorities. On one infamous day of action, now known as Black Tuesday, more than 160 teachers were injured by the police in Inezgane, Marrakech, Tangiers and Casablanca. Two weeks ago, teachers erected a makeshift camp in Marrakesh's iconic Djeema El Fna square. Over two dozen teachers have already joined the hunger strike, refusing food and water.
Noureddine El Zazat, a teacher at the camp, explained the purpose of the protest camp. "We want to illuminate the gravity of our condition to the Moroccan public. We are also here to demand a dialogue with the government, but no meetings have been granted so far. We will stay here until our demands for dignity are met."