Wednesday at the UN climate talks in Marrakech kicked off with a show of commitment to the Paris Agreement from US civil society. The banner timed for the arrival of US Secretary of State John Kerry, who's speech at COP22 emphasised the importance of the conference and worldwide climate action in moving towards a more sustainable future.
Kerry offered reassurance that progress will continue despite contrasting views of some incoming leaders, such as Donald Trump, through existing market demand for green technology and sustainable solutions.
"This year will contribute to the hottest decade in human history, which was preceded by the second hottest decade, which was preceded by the third hottest decade. At some point even the strongest climate sceptic has to acknowledge that something is happening." – John Kerry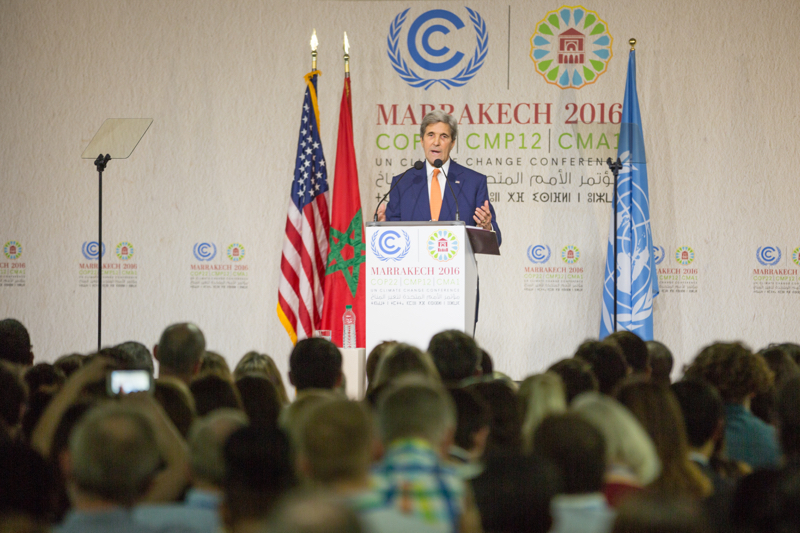 In the negotiations themselves, the high level dialogue on climate finance began, with a strong focus on adaptation finance. Ministers made statements reaffirming their country's commitment to climate finance and adaptation finance. However, finance still seems primed to be an issue of contention with disagreements over actualising the US$100 billion roadmap to climate finance, alongside balancing the competing interests of the adaptation fund alongside the Green Climate Fund.
In other climate finance news, the UK and Australia also presented the roadmap, where they echoed sentiments released with the release of the roadmap last month and the joint statement last week.
Thinking ahead for 2018, Poland has indicated their interest for hosting COP24. If successful, Poland would have held three COPs in the space of 11 years – COP14 in 2008, COP19 in 2013 and COP24 in 2018. However, there is speculation that Saudi Arabia is also interested in holding the COP presidency for the first time. Civil society groups are already wary of another conference in Poland, a heavily coal dependent country with conservative policies.
The day ended with the UNFCCC's Momentum for Change showcase, where 13 projects from a pool of over 500 applicants were chosen and highlighted. Each of the projects fell in one of the three categories of: women for results, financing for climate change and information and communication technology solutions. Winning activities included a Swedish city based green bond scheme, a revenue-neutral tax in Canada, a program monetising female empowerment benefits of climate action, and a fogwater harvesting system in Morocco.
Outgoing UN Secretary General Ban Ki-moon shared with participants who needed a respite from the negotiations:
"I am truly inspired by the lighthouse activities. They show innovation at its best."