Narendra Modi left a striking impression during his 48 hours in Paris for the COP21 climate change conference. But back in India he faces a country in environmental crisis. When he arrives home he will be dealing with floods in the south of the country and toxic pollution in the north.
Modi's recent tours across continents to foster foreign relations and develop multilateral ties have been closely watched. And now the Paris gathering has gained interest, with millions shifting focus to the climate treaty.
India's recent launch of Solar Alliance has received rounds of applause, pressing many issues down the country's priority list. From an Indian perspective, the climate agreement is more than targets and testimonies – the Indians currently displaced by floods and choking on toxic fumes want action.
As Modi left for the conference, Delhi was blanketed with a foul layer of smog that led public health officials to declare an emergency. The Indian capital was recently labeled the world's most polluted city in terms of the the Air Quality Index. In fact, India is home to 13 of the top 20 most polluted cities in the world. It's a problem Indians hope their government will address at the COP21 conference.
The Indian Government has promised to lower its emissions intensity – energy produced per unit of economic output – by around 35 per cent by 2030 based on 2005 levels. For many Indians this doesn't go far enough.
Rain continues to batter the southern region of Tamil Nadu, which faces severe floods. People use boats and rafts to get around the streets as the country continues to lose life and property into the third week of relentless downpours. As global leaders discuss emissions targets in Paris, residents of Chennai feeling the effects of a relentless climate are left to wonder what the minister has planned in order to ensure provision basic facilities and sustainable infrastructure.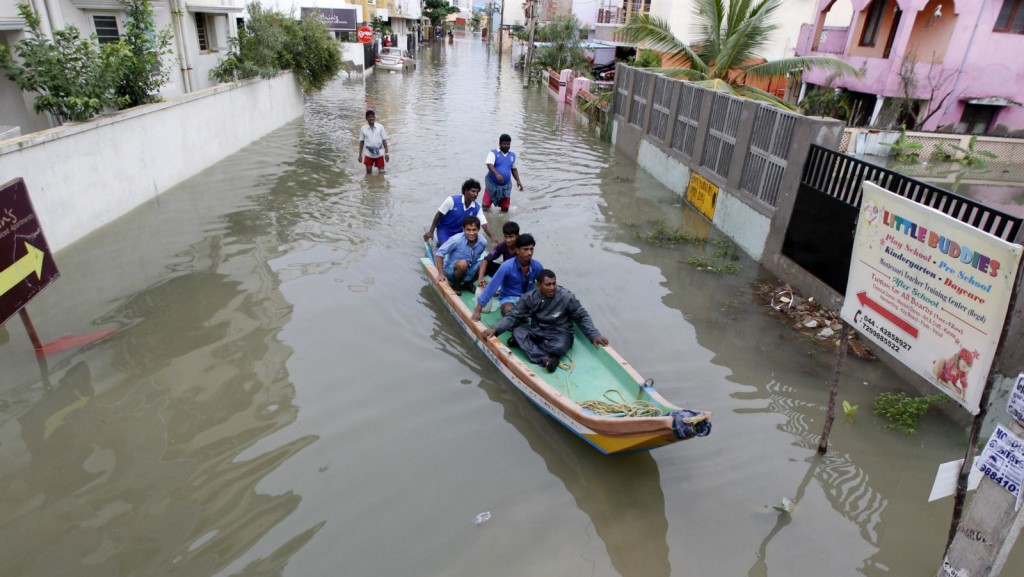 These effects of these environmental catastrophes have trickled down into the daily debate in India about the connection between energy production and environment protection. This nexus has placed India in a delicate position, with many calling for a 'de-growth alternative'. Efforts to switch to renewables have not gone unrecognised, but the government is treating decarbonisation as unrealistic and unfeasible, pushing ahead with coal-fired power production.
Though Prime Minister Modi has the challenge of bringing power to hundreds of millions without destroying the environment – a tough ask for any leader – it is becoming increasingly clear that bringing electricity to the masses cannot come at the cost of environmental degradation. What use are electric lights when your house is underwater?
Nonetheless, India is holding on to a firm position at the COP21 climate talks in Paris. There are rumours it may compromise on some areas, but minister for the environment Prakash Javedakar seems to be digging in, announcing before his departure that India's position in the negotiations will remain strong and that he would be seeking a 'fair agreement' for developing nations.